About LUX RANDOM PLANK CLADDING.
HOW IT LOOKS.
The aesthetic of the LUX Random Plank is contemporary but leans heavily on the timeless elements of the Mid-Century Modern architecture that is so timeless in its appeal. Unlike the now priceless woods of the time, Random Plank is created with KYNAR500 Painted Steel meaning it is more affordable, will last far longer and requires no maintenance.
HOW IT WORKS.
The LUX Random Plank® is a comprehensive system designed to remain architecturally redefined regardless of the corners to terminations that it encounters. A complete line of trims and carefully designed joiners ensure that a clean and durable installation is simple and efficient.
To gain a better understanding of how the system works please click the link to our installation downloads page and review our beautifully executed installation animation below.
Click the link to view the beautiful Random Plank Installation Video!
VIEW INSTALLATION VIDEO
HOW IT IS SOLD.
Due to the nearly endless custom possibilities, LUX Folded Wall is made to order. Each order is skillfully created so it can be catered to your needs and made efficiently and quickly.
LUX Folded Wall is available in 10', 13' and 20' lengths but there are many ways it can be cut and modified. Cuts and modifications can be performed with a quality ferrous blade, a skill saw, a mitre saw, or a radial arm saw. For more information on modifying your Folded Wall panel, see our installation guide.
Additionally, our vast and superbly designed trims provide excellent finishing opportunities for virtually any challenging project and ensure your Folded Wall is able to be installed correctly and easily. The pricing for the Folded Wall is staggeringly reasonable and could easily accommodate use on an entire large-scale project, or simply as a striking feature material.
To find out more about ordering LUX Folded Wall, contact us to find a dealer in your area.
Random Plank Colours.
The Random Plank is available in ALL of the LUX Colours.
The great thing about the LUX Random Plank, other than its sophisticated design, is the extensive selection of colours available.
To add to that is the option to choose the colour of your spacer strip.
This leads to almost endless design possibilities for the Random Plank and supports the design process by allowing for complementary or contrasting colours to facilitate the perfect aesthetic for your projects.
The diagram below shows the two pieces that you can choose colours for: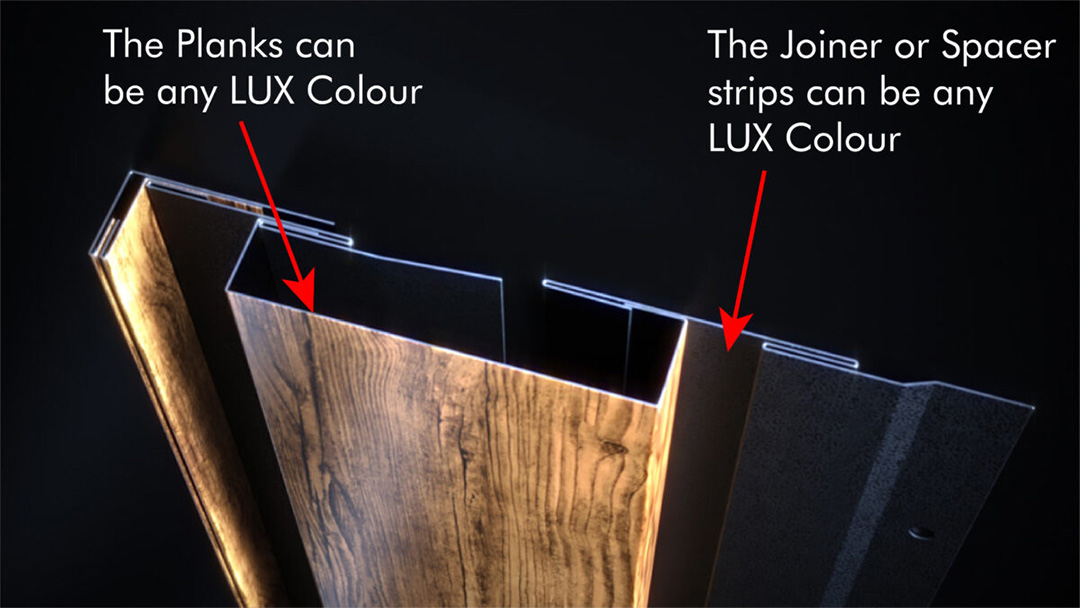 The Technical.
LUX Architectural Products are extensively certified and tested so you can count on them to perform beyond expectation!
LUX has been Certified by the Government of Canada via the National Research Council of Canada. The NRC oversees the Canadian Construction Materials Certification which is a rigorous set of tests to prove a building product can meet stringent quality criteria. The LUX CCMC number is CCMC: 14137-L
LUX meets and conforms to the CGSB-93.4-92 as per standards Council of Canada, National Research Council Canada, National Building Code of Canada.
LUX passes the CAN/ULC S102-10 with ZERO Flame Spread and a 5/100 smoke rating, making it a Class A rating.
LUX passes the National Research Council of Canada – Wind Load Test with "…no permanent deflection or visually apparent degradation was observed in the cladding."
LUX passes the ASTM B117 Salt Spray Test and can be used on all your coastal projects!