Smooth & Vented Soffit.
The original V-Groove Vented Soffit is by far the most stylish, integrated and versatile soffit you will find in the contemporary cladding industry.
This Soffit can be installed either perpendicular or parallel to a roof-line and installs exceptionally clean with the use of the LUX Soffit J (#840) and a LUX Fascia. The LUX V-Groove Soffit comes in the 4" width to retain strength but offers 8.064 SQ.Inches of venting per Square Foot. The 4" Soffit comes in smooth or vented and can be used in combination with either the 4" or 6" V-Groove panels. These multiple combinations and installation options provide an endless array of design possibilities and maximum versatility when it comes to creating a contemporary and stylish Soffit. Like all our V-Grooves, the Soffit panel comes in all our Woodgrain, Textured, and Metallic finishes and like all LUX Steel, requires no maintenance.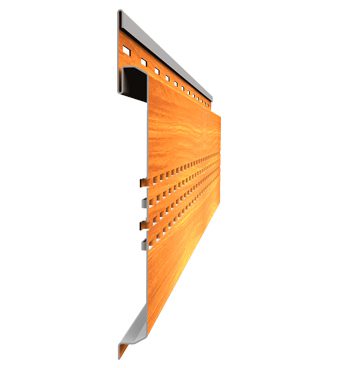 Double 7 Two-Panel Soffit
Designed to provide maximum coverage and venting, while also providing a cost savings, the Double 7 is a beautiful, warm and efficient soffit panel.
The Double 7 Soffit is an extremely versatile and cost-effective soffit solution. Because of the overall 14 inch width of the profile, the installation of the Double 7 can be completed very quickly saving you money and time on your project. The wide profile also lends itself to a refined architectural aesthetic as it is less visually cluttered and snaps together almost seamlessly. As a vented soffit, the Double 7 is unrivaled in the industry providing 5.376 SQ. Inches of venting per Linear Foot. In high wind areas or across bigger expanses, the Double 7 installation can be supplemented with colour matching screws available from LUX. Because of the nature of the manufacturing process and the amount of material coverage provided by the Double 7, there are also cost saving benefits to choosing the product which means you can use now you can install even more beautiful LUX on your projects!